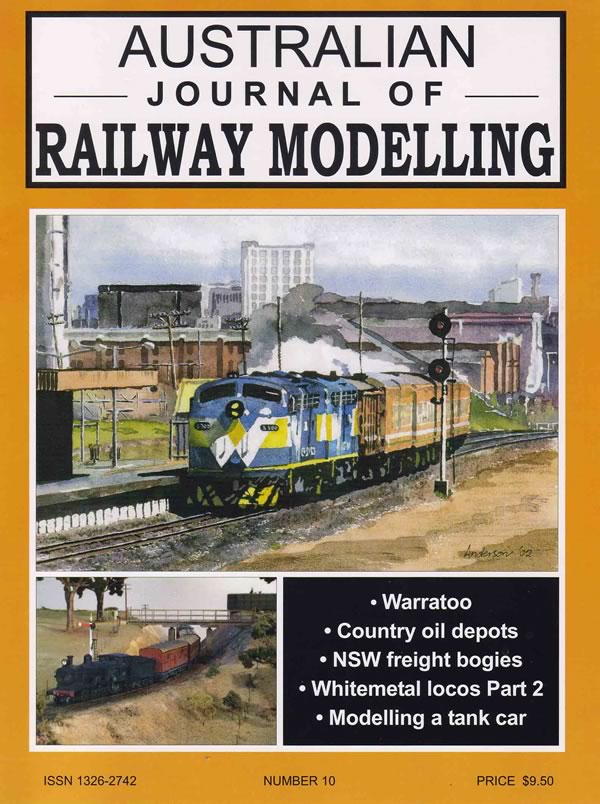 POINT OF VIEW – Capturing the Essence
WARRATOO – Warratoo is the current HO scale exhibition layout of the NSW Model railway Club. While being a fictional location, Warratoo is loosely based on Tumulla Bank in the central west of NSW. On behalf of the club, Peter Steel describes the concept, design, construction and operation of the layout.
REPLACING PECO POINT MOTORS – Daryl Woolfe describes a quick and easy method for changing Peco point motors.
BRAKES FOR A BRAKE VAN – Guards van bogies have brakes which act against the tread on the outside of the wheel. This makes the brake rigging a noticeable feature on the end of these vans. Stephen Ottaway shows how to add brake rigging to an AR Kits 2AT bogie.
NSWR FREIGHT WAGON BOGIES – Bogie wagons did not constitute a significant proportion of the NSWR fleet until the 1950's when many new, modern bogie wagons were acquired. This was the beginning of the end of fixed wheel base wagons that were the mainstay of the state's goods roster for nearly 100 years. James Dalton explains how bogies differ in their design and construction and illustrates the various types of bogies used under NSW goods wagons. Lists of vehicles and the bogies fitted to them are also provided.
TURNING A WHEEL – There are now a number of suppliers of HO wheelsets, however not that long ago modellers were crying out for the high quality metal wheelsets that we now tend to take for granted. That this situation has changed for the better is due in no small measure to the efforts of K & M Engineers. Stephen Ottaway takes a tour of the wheel making process and provides an insight into K & M Engineers and Allan Kinny, the founder of this family owned company.
FLUXES FOR SOLDERING – Using the right kind of flux is essential for a good soldered join. Ian McIntyre, a professional assembler of whitemetal loco kits looks at the various types of flux that can be used in model work.
MODELLING THE DEFENCE DEPARTMENT RAIL TANK CAR – The Defence Department rail tank car was featured in Issue 9. Stephen Ottaway describes how new Branchline Modeller parts can be used to model one of Esso's Defence Department tank cars.
ASSEMBLING WHITEMETAL STEAM LOCOMOTIVE KITS – PART 2 – Phil Calvert continues the description of how he assembles this type of kit. Using the Footplate Models D53 as an example, this part covers the mechanism and the body of the locomotive.
APPLYING DECALS – THE EASY WAY – Al Cutmore describes a simple, yet effective technique for applying decals.
COUNTRY OIL DEPOTS IN NSW – Howard Armstrong describes the typical components which make up oil depots as they relate to the railway and provides an insight into variation between the architectural styles used by the different companies. While this article relates to NSW, there will be similarities with depots in other states.
Purchase from https://stephenjohnsonmodels.com.au/shop/ajrm/magazine/australian-journal-of-railway-modelling-issue-10/