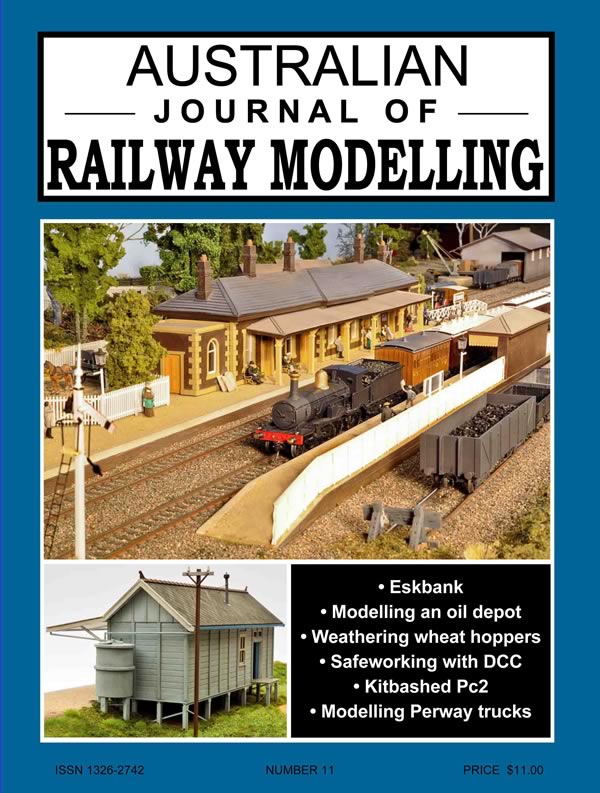 POINT OF VIEW – What about operation?
MODELLING AN OIL DEPOT – Peter Street describes how he modelled a typical Esso country fuel depot.
ESKBANK – The railway yard and locomotive depot at Eskbank opened in 1882 and for forty years it was the centre of railway activities in the Lithgow Valley.  Being the site of Australia's first modern steelworks, the Lithgow Valley is sometimes referred to as the cradle of Australian industry.  The railway at Eskbank played a key role in the industrial development of the area.  As it was located just a few miles to the east of the Great Zig Zag, the depot at Eskbank stabled and serviced locomotives that assisted Sydney bound trains up the steep grades of the zig zag until it was bypassed in 1910.  David Low explains to Brad Hinton why he built a layout based on this historically important location and talks about the challenges and rewards in modelling Eskbank in HO scale as it would have been circa. 1899.
WAY AND WORKS TRUCKS – In 1960 road vehicles started to replace the rail-based inspection and gang cars that had been used by track maintenance gangs since 1935.  Rodney Smith describes how he modelled two of the trucks used by his father's fettlers gang circa 1995.
PC.2 STATION BUILDING CONVERSION – Stephen Ottaway describes the conversion of a RailCentral Pc.3 station building into the smaller Pc.2 structure.
WEATHERING ALUMINIUM WHEAT HOPPERS – Blair Kooistra describes his twelve step program for weathering aluminium wheat hoppers.
SPILL-PROOF BOTTLES – Al Cutmore mixes some plaster and embeds paint bottles in it to prevent them from accidentally being tipped over.
IS THE LINE CLEAR? – Darren Lee devises a simple safe working system for single line DCC operation.
A 4-WHEEL LOUVRE VAN FOR BULK MILK – Issue 2 contained an article on enhancing the appearance of the Lima 4 wheel louvre van by replacing the ends with those from the Berg's LV kit.  The left-over sides can be used to make an LV modified for the transport of bulk milk.  Howard Armstrong provides information on the prototype while Phil Collins describes the conversion.
LAYOUT LIGHTING – The standard of lighting at exhibition venues is notoriously variable and almost always beyond the control of exhibitors.  Exhibition layouts need to be independently illuminated if the modelling on display is to be fully appreciated by the audience.  Jonathan Hilliard explains the lighting system he developed for Eskbank.
Purchase from https://stephenjohnsonmodels.com.au/shop/ajrm/magazine/australian-journal-of-railway-modelling-issue-11/