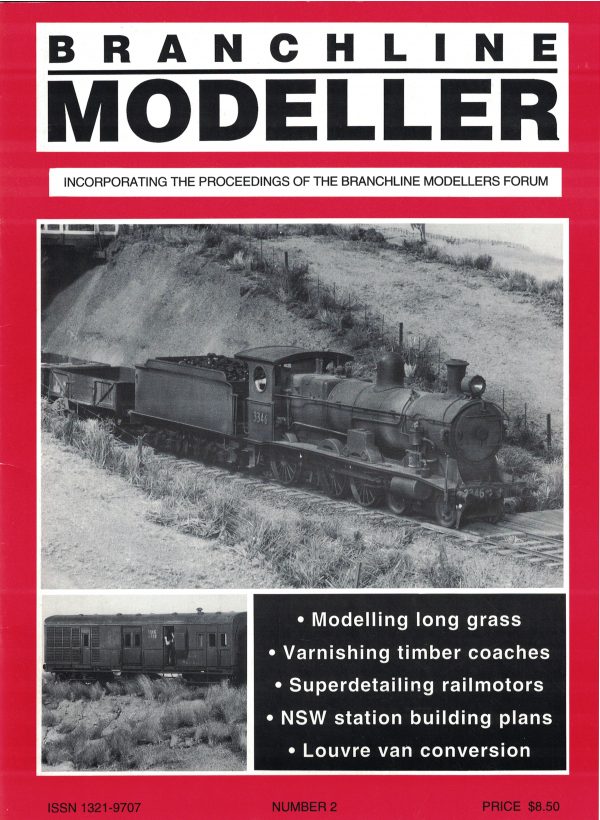 POINT OF VIEW – Our modelling identity – now and the future.
SUPERDETAILING RAILMOTORS – Most modellers regard superdetailing as the addition of extra parts to make a basic model more realistic. What parts are appropriate to add and where do they go? Peter Street had to answer these questions when he detailed his 400 Class railmotor and trailer. In addition to producing a better model, he found the research involved an interesting and rewarding aspect of the hobby.
ELECTRICAL SWITCHES – Graham Walker examines some of the different types of switches that are available and considers the factors that determine how they can be used on a layout.
GREENETHORPE – Greenethorpe is a small town in central western NSW. Located mid way along the Koorawatha-Grenfell line, this small station captures the romantic atmosphere of the pioneer Branchline. Big Bad Bob (Bob Cooke) revisits the railway and considers the location from a modelling perspective.
VARNISHED TIMBER COACHES – Geoff Kemmis, proprietor of Sydney Hobbies describes a simple technique he has developed to represent the varnished timber finish on passenger cars.
FIGURE PAINTING – Unpainted plastic figures are available from a number of different manufacturers. Stephen Ottaway describes how he paints them, giving a better result and at less cost than the ready painted alternative.
COMPENSATING BOGIES – Stephen Ottaway describes a simple way to compensate AR Kit Co. Bogies.
N.S.W.R PIONEER STATION BUILDING – A Kim Armstrong plan accompanies a pictorial overview of this interesting building.
MODELLING TALL GRASS – An essential component of any rural scene is grass, and plenty of it. In nature, not all grass is green and it certainly isn't all the same length. The key to making realistic grass is to capture some of this variation. Rob Flowers shows how he uses imitation fur to simulate long grass.
UP GRADING CARDBOARD KITS – LJ Models produce range of Australian buildings as card kits. The detail, however suffers from a lack of depth, a problem that can be overcome with a little efforts. Following on from the prototype article, Stephen Ottaway tackles LJ's small A5 station building kit, removing the flat look and turning it into a model able to withstand close scrutiny in the foreground of any layout.
FOUR WHEEL LOUVRE VAN CONVERSION – Jeff Moonie combines parts from the Berg's LV Kit with the Lima Louvre Van to produce a more accurate model of the NSWGR 10'-0" wheelbase louvre van.
END OF THE LINE – Kim Armstrong gives a pictorial overview of some of the different timber buffer stops found in NSW. Also included are plans and tips on how to build them.
OUT OF PRINT