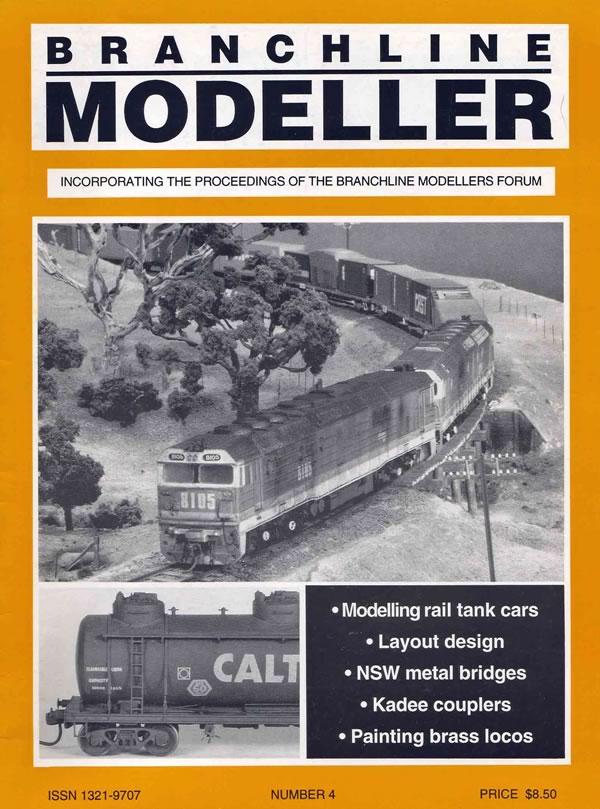 POINT OF VIEW – Hobby Shops.
MODELLING THE SHELL 9000 GAL RAIL TANK CAR – The American tank cars used on most layouts are poor representations of those that ran on the NSW system. Howard Armstrong has devised a system that allows tank cars to be modelled accurately. He describes a group of vehicles characterised by 9000 gallon tanks on standard 36' underframes.
The tank is made from UPVC tube with ends and domes glued on. Two options for the underframe are described. Peter Street modifies the underframe of an Athearn 3 dome tank car while Peter Hearsum, who made the patterns for the domes, uses the Tichy Train Group tank car underframe.
FOAM HEDGES AND BUSHES – Hedges were a common feature in the days when railway stations had gardens that were well maintained. Stephen Ottaway describes a method for making hedges and other dense bushes.
MANUALLY OPERATED POINTS – A system for the mechanical operation of scratch-built points was required for 'Stockinbingal', an exhibition layout built by the Wagga Wagga Model Railroaders. Rodney Smith describes the system devised by the club.
METAL BRIDGES OF THE NEW SOUTH WALES RAILWAYS (1863-1925) – In Branchline Modeller Number 1 Don Fraser gave a description and history of the timber bridges used on the NSW railways. He continues the story of railway bridges in NSW, this time looking at bridges made of metal.
A SIMPLE CUTTING BOARD – Herb Adler's simple device to cut and scribe styrene sheet easily and accurately.
THE ART OF PAINTING BRASS MODELS – Having painted close to five hundred locos, Howard Smith is one of the most experienced custom model painters. In this article he describes how he paints brass locos. Many of his methods and the underlying principles can be directly applied to the painting of other models.
TUMUT TO BATLOW – A COMPLETE BRANCHLINE IN HO SCALE – Rodney Barrington presents a track plan layout featuring a short Branchline between Tumut and Batlow in southern NSW.
THE RAIL TRANSPORT OF PETROLEUM IN NSW – Howard Armstrong briefly summarises the evolution of the private owner rail tank cars used for the transport of petroleum in NSW.
KADEE COUPLERS FOR HO SCALE – The majority of HO scale Australian prototype modellers have adopted Kadee couplers as standard. Stephen Ottaway reviews the HO scale Kadee range and outlines the requirements for their reliable operation.
OUT OF PRINT