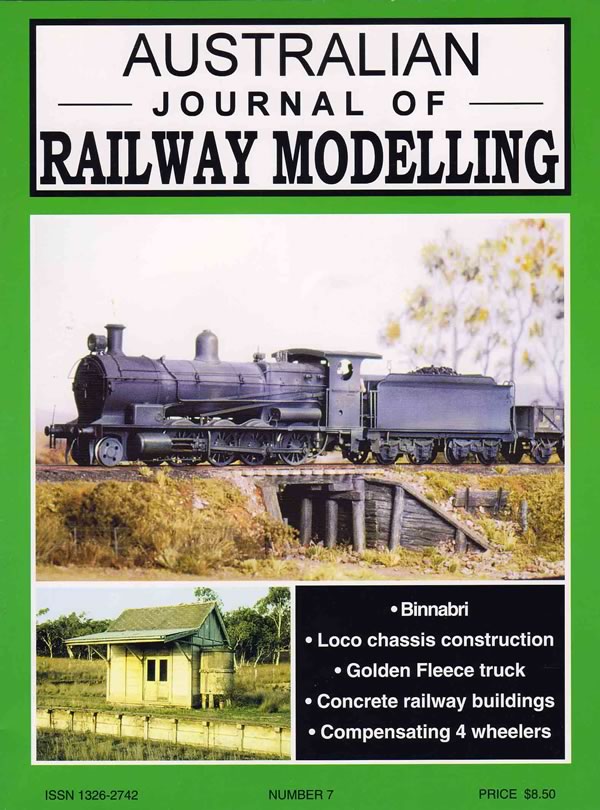 POINT OF VIEW – Ready to run models. Are they the end of individualism?
BINNABRI – Graham Holland presents his 7 mm scale model of a fictional NSW line.
ETCHED LOCO CHASSIS CONSTRUCTION FOR THE NOVICE – Murray Weymouth takes you step by step through the assembly of a typical etched metal loco chassis.
DETAILING TANK CAR KITS – Eddie Garde provides some tips on improving the appearance of the Shell 5000 gallon bogie tank wagon kit from Lloyd's Model Railways.
CONCRETE BUILDINGS OF THE N.S.W RAILWAYS – During the period between the two world wars, almost all new buildings on the expanding NSW rail network were made from pre-cast reinforced concrete. This new product provided greater efficiency in the design, construction and maintenance of railway buildings than previously used materials. Stephen Ottaway provides an overview of the history, location and design of these interesting structures.
SEVEN SEGMENT DISPLAYS – The seven segment display is a relatively inexpensive and readily available electronic component. Graham Walker explains how they work, shows how to wire them and provides some examples of how they can be used on a control panel.
NTAF 3345 – THE SAGA CONTINUES – Howard Armstrong continues the story of the Tulloch 1947 rail tank cars featured in AJRM 6. He details the changes made to one of these cars so that it can meet the need of present day operations.
COMPENSATING 4 WHEEL WAGONS – Compensation is based on the principle that an object supported at three points will be stable; even if it is on an uneven surface. It provides smoother running, eliminates bumping and lurching as well as reducing the likelihood of derailment. Using the Powerline S truck as an example, Bob Comerford demonstrates three ways of compensating a 4 wheel chassis.
FINDINGS OF THE READER SURVEY – The survey in the last issue was designed to give us some objective information about what readers wanted to find in the journal. The findings of the survey are outlined below.
GOLDEN FLEECE DISTRIBUTORS TRUCK IN 'HO' SCALE – Tom Rogers converts a basic whitemetal truck kit into a distinctively Australian road vehicle. He shows that it isn't always necessary to have detailed plans and photos in order to produce a convincing model.
Purchase from https://stephenjohnsonmodels.com.au/shop/ajrm/magazine/australian-journal-of-railway-modelling-issue-7/