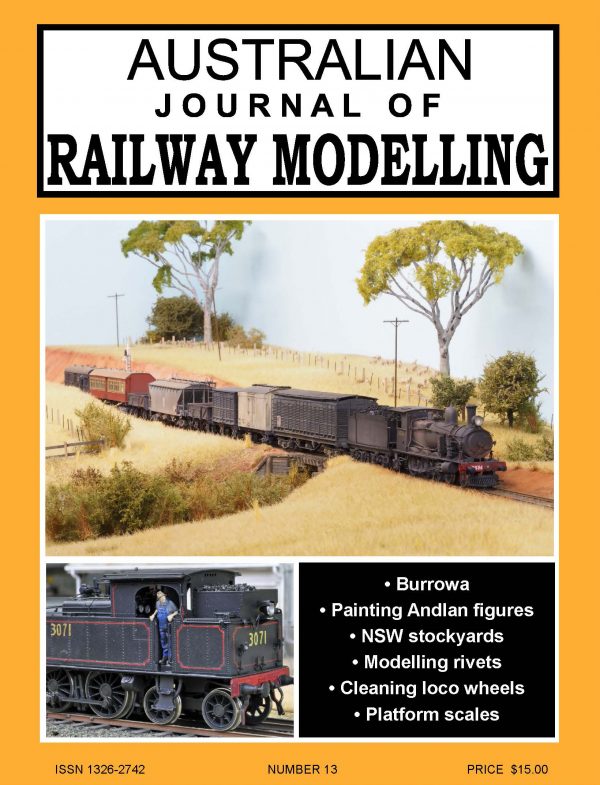 POINT OF VIEW – Perhaps it's time for a modellers exhibition STEPHEN OTTAWAY
BURROWA – PETER HEARSUM describes his layout based on Boorowa, terminus of a 29km long branch that ran from Galong on the Main Southern Line in NSW.  The branch was opened in 1915 as a pioneer line and the layout features the infrastructure that is typical of this period.
PAINTING ANDIAN MODELS 3D PRINTED FIGURES – AndIan Models produce 3D printed models of railway personnel in several scales.  These figures come from high resolution scans of real people wearing authentic attire and posing in life-like positions.  The figures are supplied unpainted and with the supports associated with the 3D printing process still attached.  IAN PHEMISTER describes how he paints these figures and installs drivers and firemen in his model locos.
PRESERVING A RECORD OF YOUR LAYOUT – In his small operating group, LES FORDHAM has seen layouts broken up after their owners passed away.  Few records of their achievements remain.  He describes how he produced a book for the family and friends of another member of the operating group to remind them of the enjoyment the owner obtained over the 30 years he spent working on and operating his layout (with hopefully many more years to come).
MODELLING RIVETS – IAN BLACK reviews the options for applying rivets to models; be they scratch built or kitbashed.  Two case studies describe how these methods can be applied in practice.
PLATFORM SCALES – For decades the NSW railways had a virtual monopoly on the long distance transport of parcels around the state.  Even Post Office parcels were carried by rail. To calculate the transport cost, platform scales were provided for station staff to weigh heavy or bulky items.  STEPHEN OTTAWAY provides a pictorial overview of railway platform scales, one type of which is offered as a Branchline Modeller detail part.
CLEANING LOCO WHEELS THE EASY WAY – IAN PHEMISTER describes a simple way to connect track power to locos while they are upside down in a cradle having their wheels cleaned.
TRUCKING YARDS OF THE NSW RAILWAYS – The transport of livestock, primarily cattle sheep and pigs was a major function of the railways for around 100 years.  Livestock were moved by rail to abattoirs or to and from saleyards and agistment in districts where pastoral conditions were better than at home.  Special facilities were required to load stock wagons, primarily because the animals didn't want to go into them.  Unloading facilities did not need to be as elaborate.  STEPHEN OTTAWAY describes the rationale behind the design of railway stock yards and looks at some of the variations in their construction.
MANUAL POINT OPERATION – JOHN HARRIOTT describes a cheap, effective and reliable way to manually change points.
MAGNETIC ATTRACTION – MARK KENDRICK describes a cheap and simple way to keep loose drills and rotary tool burrs under control on his workbench.
A SERVICE STAND FOR TRIKES – STEPHEN OTTAWAY describes a stand at Deepwater constructed from sleepers and old rail that made it easier for local per-way staff to maintain their track vehicles.  He then explains how he modelled it.
MODELLING USES FOR ANTI-SLIP MATS – ANDREW LEE has identified some modelling applications for the anti-slip matting commonly found lining drawers and shelves in the kitchen.
Purchase from https://stephenjohnsonmodels.com.au/shop/ajrm/magazine/australian-journal-of-railway-modelling-issue-13/